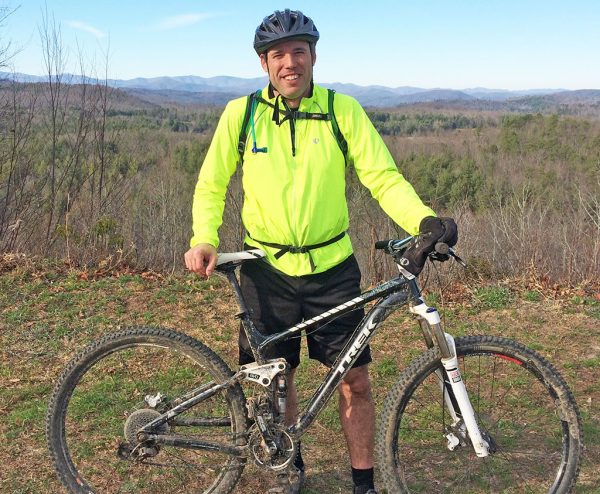 [vc_row][vc_column][vc_empty_space][vc_column_text]
MEDIA RELEASE
August 27, 2020
CONTACT : Steve Wachs, President, Patapsco Heritage Greenway President (443.253.5686)
FOR IMMEDIATE RELEASE
UNCC History Professor Brings Well-Suited Experience, Heritage Area Expertise, and Critical Understanding of Environment to Patapsco Valley
ELLICOTT CITY, MD– Patapsco Heritage Greenway (PHG) Board of Directors is excited to announce the selection of Dr. Aaron Shapiro to lead the organization forward as its new Executive Director.  Shapiro arrives at PHG having served as Associate Professor and Director of Public History at UNC Charlotte.
"We are extremely pleased that a candidate with Aaron's expertise and experience is relocating to the Patapsco Valley area. We are confident he will play an important role in leading our organization and the Patapsco Valley Heritage Area through the post pandemic phase of growth and transition, said Steve Wachs, PHG President. "I, along with my fellow Board members, anticipate new and exciting initiatives under Aaron's leadership."
Upon his selection Shapiro remarked, "I am incredibly excited to join PHG and work with partners across the Patapsco Valley Heritage Area and Maryland to draw attention to the rich and diverse history, culture and environment of the river valley. While we have entered uncertain times, the pandemic has also drawn increased attention to the need for preserving our natural and cultural resources for the health and well-being of our communities. PHG is well-positioned to help lead this effort."
Prior to his position with UNC Charlotte, Shapiro, a native Chicagoan, started and directed the public history program at Auburn University and served as national historian for the US Forest Service in Washington, DC. There he was involved with a range of public history projects including films, digital initiatives, oral histories, interpretive planning, exhibit development, historic preservation, and heritage tourism. Before joining the Forest Service, Aaron was Assistant Director of the Scholl Center for Family and Community History at Chicago's Newberry Library. He received his MA and PhD in History from the University of Chicago and a BA in History from the University of Pennsylvania. His research, teaching and public history work over the last two decades has explored changing perspectives of the cultural and natural landscape, connections between memory, heritage, and public historical interpretation, the history of land use and environmental change, modern environmental politics, and broader cultural
transformations in twentieth century urban and rural America. He is the author of The Lure of the North Woods: Cultivating Tourism in the Upper Midwest, which won the 2014 Jon Gjerde Prize for best book in Midwestern history.
Shapiro will transition into his new leadership role in a remote capacity and will be fully engaged as he completes his relocation to the area. He will be formally introduced to PHG members and partners on September 30 during the organization's virtual annual meeting and begin serving in October. He expects to be on site at PHG's Ellicott City office as soon as possible.
Patapsco Heritage Greenway is the non-profit managing organization of the Patapsco Valley Heritage Area, Maryland's 13th Heritage Area. It is dedicated to preserving, protecting, interpreting, and restoring the environment, history, and culture of Maryland's most dramatic river valley for the enjoyment of all. Natural processes, natural beauty, and history combine within the Heritage Area to create a unique opportunity for neighboring residents and visitors from across the state and beyond, to understand and enjoy the river valley. Through the efforts of PHG and its many partners, the public can better appreciate the significance of the valley's heritage, understand its history, and enjoy the many experiences it has to offer.
###
 [/vc_column_text][/vc_column][/vc_row][vc_row][vc_column][/vc_column][/vc_row]