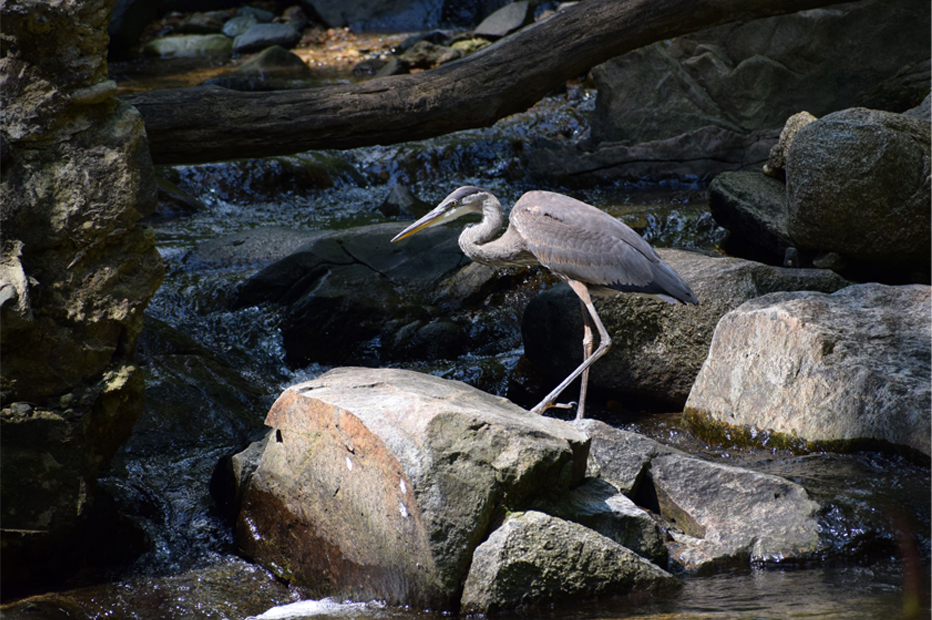 [vc_row][vc_column][vc_column_text]MEDIA RELEASE
December 7, 2020
CONTACT : Aaron Shapiro, Executive Director | director@patapsco.org | 410.696.1328
ELLICOTT CITY, MD—
Patapsco Heritage Greenway (PHG) Board of Directors is pleased to announce the winners of the 2020 paSNAPsco Photo Contest. Now in its third year, the contest attracted 37 entries and $900 was awarded in prize money. Individual cash prizes of $100 were awarded to the "best of" in
six categories.
Jeanine Murphy-Morris of Ellicott City took top honor with her stark image of a heron on the hunt along the rocks of the Lower Bonnie Branch stream. Murphy-Morris will receive $300 in prize money for her entry which judges selected as a co-winner in the contest's Nature Nurtures category as well as the Best of Patapsco overall. Photographer John Carter also received recognition as a co-winner in the same category for his serene scene of pools at Cascade Falls in Patapsco Valley State Park. Oella resident Geoffrey Baker received top honors in two separate categories. His striking black and white composition entitled, Mt. Gilboa Church in Springtime, was selected in the Step Back category while his colorful abstraction of holiday lights in historic Ellicott City won the Main Street Moments prize money. Ryan Simmons photo entitled Sunday Reading was judged best in the Get Out category and Bill Wise's photo of a plein air artist painting along the Patapsco River won in the A Muse category.
In addition to the judges' selections, an on-line vote determined Robin Heintz's black and white photo of the Ilchester train tunnel as this year's People's Choice. A $100 prize was awarded for the top selection in each category and the winning photos along with six honorable mention entries will be featured in PHG's 2021 paSNAPsco Calender. Photographers whose entries received honorable mention are Kim Young, Brent Parks, Andrew Gosden and Robin Heintz.
In announcing the awards, PHG Executive Director Aaron Shapiro commented, "PHG is pleased to support the arts in a way that enables us to share the beauty and diversity of the Patapsco Valley Heritage Area by featuring the work of these talented photographers. We hope to see the involvement of more photographers each year and given the heritage area's recent expansion there are now many new places where they can aim their lens."
Judges for this year's contest were VCU Arts graduate and photographer Riley Goodman, PHG Board Member Pam Johnson, Maryland History Tours President Ed Lilley, and Baltimore County Arts Guild Board Member Kate Martiyan.
Awards for the paSNAPsco contest are sponsored by The Rogers Family of Ellicott City and the project ismade possible through support from the Maryland Heritage Area Authority[/vc_column_text][/vc_column][/vc_row]