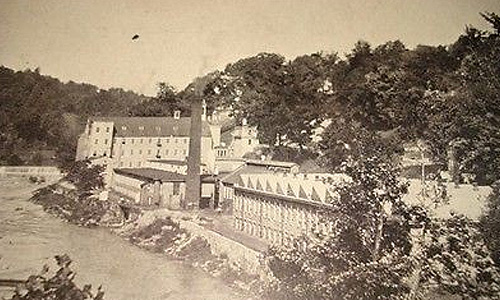 Just outside of the boundaries of Patapsco State Park in Ilchester lies the remnants of the valley's third cotton mill. Now reduced to an open concrete floor, this site was once a bustling industrial town in a region at the forefront of industrial development.
Built in 1824, Thistle Mill represented a shift in the kinds of industries taking place along the Patapsco. Before this mill was built, the Ellicott family had developed the valley as a site for wheat mills. Thistle Mill, the third cotton mill to be built in the valley, highlighted the shift from wheat to cotton.
Although the Ellicott family's legacy continued to play a pivotal role in the development of the region, by the early 19th century they began to sell riverside land to interested developers. The site of Thistle Mills was sold to Baltimore businessmen Alexander Fridge and William Morris in 1823.
Rather than invest in wheat, Fridge and Morris opted to invest in the cotton trade. This was enforced in the deed signing over the land, which prevented the businessmen from milling wheat in competition with the Ellicott family.
The rapid growth of textile production represented a change in the nature of industry across the Atlantic. As the textile industry grew across the world, so too did America's involvement in the global markets. As a primary producer of cotton, the American South supplied the textile industry which fueled the industrial revolution.
Thistle mill, and other cotton mills like it, highlight the human cost of industrialization. Although the laborers at the mill were free workers, these mills relied on enslaved labor to produce cotton. Investors took advantage of slavery to propel industrial growth and secure profit. The legacy of the site, then, is twofold. It is both a beacon of American industrialism and a reminder of our challenging past.
The site would continue to refine cotton long after the end of slavery in America. In 1928, it transitioned to the production of paper. It continued operation until 2003, by which point it was recycling cardboard. Between 2003 and 2013, the site stood as the last remaining factory town in the valley.