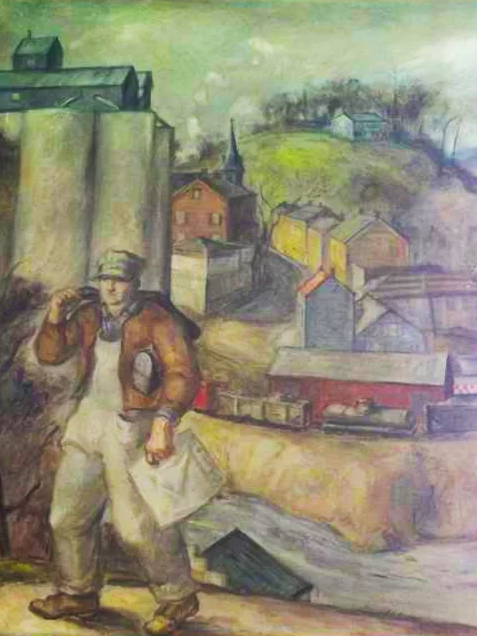 On the walls within Howard County's Welcome Center, located on Main Street in Historic Ellicott City, are two large colorful murals. The murals depicting the town's heritage were installed in the old U.S. Post Office building as part of the nation's "New Deal" effort to inspire community pride and provide local artists with employment.
"Building of Ellicott Mills," a New Deal-era mural painted in 1942 by Petro Paul De Anna depicts the town's beginnings in 1772. It shows the town's founders, brothers John, Joseph, and Andrew Ellicott, clearing land for a mill, mixing mortar, and building a house. The wagon is heading down a dirt trail which is likely the beginning of the first section of the Historic National Road between Baltimore and Howard County.
"Landscape of Ellicott City" (panels below) shows the town as it was in the early 1940s when the post office building opened. Included are landmarks still visible today including the silos of the flour mill, the steeple of the old First Presbyterian Church, the Courthouse Dome, and the old B&O train station. Also shown are the old Quaker meeting house, the Old Town Hall, bridges across the Patapsco River, and mill workers' houses.