Patapsco Days
Patapsco Days is an annual exploration of the histories of the Pataspco Valley that takes place in March. If you missed any of this year's (or previous year's) events, don't worry! You can watch the recordings of each event on Patapsco Heritage Greenway's YouTube channel!
Some highlights of this year's series include:
Adaptive Programs in Patapsco Valley State Park: Dave Ferraro and Bruce Clopein from Friends of Patapsco Valley State Park highlight the processes and challenges of establishing adaptive programs in Patapsco Valley State Park.
Preserving the Past: Why Archaeology Matters in the PVHA: Archaeologist Kelly Palich shares some of the most significant findings in the area and opens a dialogue on why archaeology matters in the Patapsco Valley Heritage Area.
The Inaugural Charles L. Wagandt Memorial Lecture- Pioneering Innovations in the Patapsco Valley: Henry K. Sharp, author of The Patapsco River Valley: Cradle of the Industrial Revolution in Maryland (2000) and America's First Factory Town: The Industrial Revolution in Maryland's Patapsco River Valley (2017), explores strategies and technologies embraced by the Patapsco Valley's early entrepreneurs.
Recommended Reading
The Patapsco River Valley: Cradle of the Industrial Revolution in Maryland
By: Hal Sharp
Based on a personal survey of the area and extensive research into primary sources, Hal Sharp has written an exciting history of the Patapsco River Valley in its role as the cradle of the Industrial Revolution in Maryland. The book is beautifully illustrated and published by the Maryland Historical Society in 2001. The project has been supported by the Patapsco Heritage Greenway and made possible by grants and contributions from the Maryland Historical Trust, Celebration 2000, and others.
Patapsco: Life Along Maryland's Historic River Valley
By Alison Kahn and Peggy Fox
This is a documentary about a historic valley that saw the beginnings of industry in Maryland, the nation's first railroad and first cross-country highway. This engaging portrait is viewed through the memories of its elders from many walks of life. Through compelling text and beautiful photography, we gain a true sense of the cultural legacy of Maryland's historic Patapsco River Valley.
America's Conservation Impulse: A Century of Saving Trees in the Old Line State
By Geoffrey L. Buckley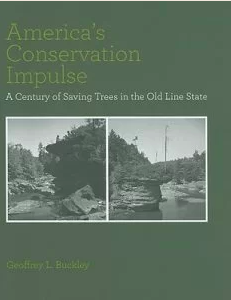 Mr. Buckley tells the story of how Maryland's rural forestry and urban tree management were intertwined. He relates how Fred Besley, Maryland's first state forester and a protégé of Gifford Pinchot, moved aggressively to implement pioneering scientific and conservation practices that are commonplace today. The author places the main narrative into a larger social context, connecting the past to the present and through to the future.
Additional Resources