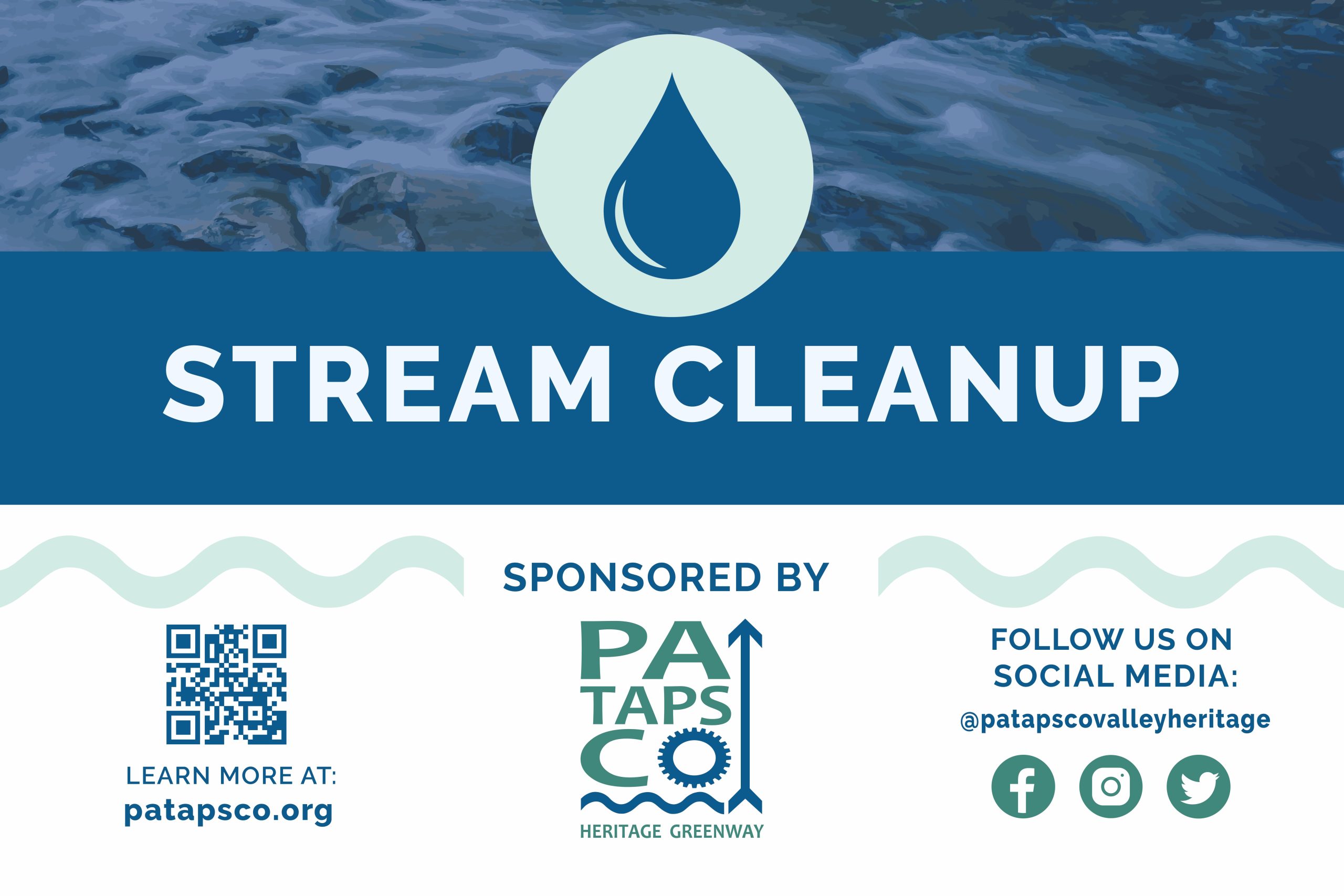 PHG Cleanup: Southwest Area Park
December 3 @ 10:00 am - 1:00 pm
Southwest Area Park Boat Ramp
Join PHG for a stream cleanup of Southwest Area Park in Lansdowne, MD. This area is along the Patapsco River and needs help!
Join Patapsco Heritage Greenway we conduct a stream cleanup along the Patapsco River at Southwest Area Park.
W hat to Bring for our Event
Layered Long Clothing: The weather is ever changing so be prepared for it to be sunny, cloudy, rainy, warm, cold, or a combination of any of these. Long pants and sleeves are your friends when it comes to outdoor environmental events.
Closed-Toe Shoes: Wear comfortable, but protective shoes since there will be branches, thorns, and holes.
Refillable Water Bottle: You will be woking hard and we want everyone to stay HYDRATED. So make sure you have water with you and you can refill when you need it.
Please continue reading below for a FULL OUTLINE of the following: Attendance Policy, Pet Policy, COVID-19 Safety Guidelines, and Waiver.
Attendance Policy:
1. Every individual who wishes to volunteer MUST register. If your name is not on the registration list at the start of the event, you will not be allowed to participate.
2. If you are registering multiple people, please make sure to register each individual with their own name.
3. Volunteers under the age of 18 are welcome if they are accompanied by a parent or guardian to supervise. An exception to the 1:1 rule can be made for organized entities or other situations if discussed AHEAD of time with PHG staff.
Pet Policy:
1. We kindly request that your pet not attend any Patapsco Heritage Greenway led environmental event unless the event is specified as "Pet-Friendly" or is a service animal that has been previously cleared by PHG before the event.
COVID-19 Safety Rules:
1. If you are experiencing any of the following symptoms (not attributed to allergies or other medical conditions) 24-48 hours before an event, please refrain from attending: a fever or the need to take fever-reducing medication, difficulty breathing, coughing, pain or pressure in your chest, inability to stay awake, loss of smell and taste.
2. Volunteers should attempt to keep distance from all volunteers not in their immediate household.
3. Masks are not required for volunteers at outdoor events. The Center for Disease Control (CDC) recommends that in areas with high numbers of COVID-19 cases, consider wearing a mask in crowded outdoor settings for activities with close contact with others who are not fully vaccinated. We strongly encourage anyone who is not fully vaccinated to wear a mask when in close proximity to others.
4. PHG will supply equipment and tools needed (pruners, loppers, trash bags, etc.) but you are also welcome to supply your own. We will have a communal stock of gloves and safety vests to use at your own risk (communal tools and gloves will be sanitized and washed between every event). We will provide hand sanitizer.
5. Please bring your own sunscreen, bug spray, and water.
6. If you begin to feel COVID-19 symptoms during an event, we respectfully ask that you immediately leave.
7. If you are diagnosed with COVID-19 within 10 days of attending an event, we ask that you alert us so that we may update the other volunteers (your identity will be kept confidential).
Continúe leyendo a continuación para obtener un RESUMEN COMPLETO de lo siguiente: Política de asistencia, Política de mascotas, Pautas de seguridad COVID-19 y Exención.
Política de asistencia:
1. Cada persona que desee ser voluntaria DEBE registrarse. Si su nombre no está en la lista de registro al comienzo del evento, no se le permitirá participar.
2. Si está registrando a varias personas, asegúrese de registrar a cada individuo con su propio nombre.
3. Los voluntarios menores de 18 años son bienvenidos si están acompañados por un padre o tutor para supervisar. Se puede hacer una excepción a la regla 1: 1 para entidades organizadas u otras situaciones si se discute ANTES de tiempo con el personal de PHG.
Política de mascotas:
1. Le pedimos amablemente que su mascota no asista a ningún evento ambiental liderado por Patapsco Heritage Greenway a menos que el evento se especifique como "Pet-Friendly" o sea un animal de servicio que haya sido previamente autorizado por PHG antes del evento.
Reglas de seguridad COVID-19:1. Si experimenta alguno de los siguientes síntomas (no atribuidos a alergias u otras afecciones médicas) 24-48 horas antes de un evento, absténgase de asistir: fiebre o necesidad de tomar medicamentos para reducir la fiebre, dificultad para respirar, tos, dolor o presión en el pecho, incapacidad para mantenerse despierto, pérdida del olfato y el gusto.
2. Los voluntarios deben tratar de mantener la distancia de todos los voluntarios que no están en su hogar inmediato.
3. No se requieren máscaras para los voluntarios en eventos al aire libre. El Centro para el Control de Enfermedades (CDC) recomienda que en áreas con un alto número de casos de COVID-19, considere usar una máscara en entornos al aire libre llenos de gente para actividades con contacto cercano con otras personas que no están completamente vacunadas. Recomendamos encarecidamente a cualquier persona que no esté completamente vacunada que use una máscara cuando esté cerca de otras personas.
4. PHG suministrará el equipo y las herramientas necesarias (podadoras, podadoras, bolsas de basura, etc.), pero también puede suministrar las suyas. Tendremos un stock comunitario de guantes y chalecos de seguridad para usar bajo su propio riesgo (las herramientas y guantes comunales se desinfectarán y lavarán entre cada evento). Proporcionaremos desinfectante de manos.
5. Por favor, traiga su propio protector solar, repelente de insectos y agua.
6. Si comienza a sentir síntomas de COVID-19 durante un evento, le pedimos respetuosamente que se vaya de inmediato.
7. Si se le diagnostica COVID-19 dentro de los 10 días posteriores a la asistencia a un evento, le pedimos que nos avise para que podamos actualizar a los otros voluntarios (su identidad se mantendrá confidencial).
AGREEMENT, WAIVER, & RELEASE
In consideration for being permitted by the Patapsco Heritage Greenway to observe, and/or participate in, the above activity, I hereby waive, release, and discharge any and all claims for damage due to COVID-19 infection, personal injury, death, or property damage which I may have, or which may hereafter accrue to me, as a result of participation in said activity. This release is intended to discharge in advance the Patapsco Heritage Greenway, Inc., (its board members, officers, employees, and agents), Patapsco Valley State Park, Alliance for the Chesapeake Bay, Friends of Patapsco Valley State Park, Ltd. , property owners or any other associated organizing group from any and all liability arising out of or connected in any way with my participation in said activity, even though that liability may arise out of negligence or carelessness on the part of the persons or entities mentioned above. It is understood that this activity involves an element of risk and danger of accidents, or COVID-19 infection, and knowing those risks (which include among other things: falling, lacerations from sharp objects, equipment failure; falling to the ground, abrasions from the use of equipment, working beyond personal limits; the negligence of other participants, or other persons who may be present; muscular skeletal injuries and/or: head injuries; COVID-19 infection; or my own negligence) I hereby assume those risks. It is further agreed that this waiver, release and assumption of risk is to be binding on my heirs and assigns. I agree to indemnify and to hold the above person or entities free and harmless from any loss, liability, damage, cost, or expense which they may incur as the result of my death or any injury or property damage that I may sustain while participating in said activity.
I understand that I am responsible for wearing appropriate clothing, shoes, face masks, gloves, and other protective wear which in some instances can reduce the risk of COVID-19 infection, permanent injury, or death. I acknowledge that Patapsco Heritage Greenway, Inc., do require participants to be in conformance with the latest social distancing standards; however, they do not require participants to wear any specific clothes, gloves, shoes or other equipment and it is my responsibility to dress accordingly for the activity.
I give my permission to be photographed as part of this event for future use on a web site or newspaper article or other media.
PARENTAL CONSENT: (to be completed and signed by parent/guardian if applicant is under 18 years of age.) I hereby consent that my son/daughter, may participate in the above activity, and I hereby execute the Agreement, Waiver, and Release on his/her behalf. I state that said minor is physically able to participate in-said activity. I hereby agree to indemnify and hold the persons and entities mentioned above free and harmless from any loss, liability, damage, cost, or expense that they may incur as a result of the death or any injury or property damage that said minor may sustain while participating in said activity.
I HAVE CAREFULLY READ THIS AGREEMENT, WAIVER, AND RELEASE AND FULLY UNDERSTAND ITS CONTENTS. I AM AWARE THAT THIS IS A RELEASE OF LIABILITY AND A CONTRACT BETWEEN MYSELF AND THE ABOVE PARTIES AND I SIGNED ON THE REVERSE SIDE OF MY FREE WILL.
ACUERDO, RENUNCIA Y LIBERACIÓN:
En consideración a que Patapsco Heritage Greenway me permita observar y / o participar en la actividad anterior, por la presente renuncio, libero y descargo de todas y cada una de las reclamaciones por daños debido a la infección por COVID-19, lesiones personales, muerte o daños a la propiedad que pueda tener, o que puedan acumularme en el futuro, como consecuencia de la participación en dicha actividad. Este comunicado tiene la intención de liberar por adelantado a Patapsco Heritage Greenway, Inc., (sus miembros de la junta, funcionarios, empleados y agentes), Patapsco Valley State Park, Alliance for the Chesapeake Bay, Friends of Patapsco Valley State Park, Ltd., propietarios o cualquier otro grupo organizador asociado de cualquier y toda responsabilidad que surja de o esté relacionada de alguna manera con mi participación en dicha actividad, aunque dicha responsabilidad pueda derivarse de negligencia o descuido por parte de las personas o entidades antes mencionadas. Se entiende que esta actividad implica un elemento de riesgo y peligro de accidentes, o infección por COVID-19, y conocer esos riesgos (que incluyen, entre otras cosas: caídas, laceraciones de objetos punzantes, falla del equipo; caída al suelo, abrasiones por el uso del equipo, trabajo más allá de los límites personales; la negligencia de otros participantes u otras personas que puedan estar presentes; lesiones musculoesqueléticas y / o: lesiones en la cabeza; Infección por COVID-19; o mi propia negligencia) por la presente asumo esos riesgos. Además, se acuerda que esta renuncia, liberación y asunción de riesgos será vinculante para mis herederos y cesionarios. Acepto indemnizar y mantener a la persona o entidades mencionadas libres e inofensivas de cualquier pérdida, responsabilidad, daño, costo o gasto en el que puedan incurrir como resultado de mi muerte o cualquier lesión o daño a la propiedad que pueda sufrir mientras participo en dicha actividad.
Entiendo que soy responsable de usar ropa, zapatos, máscaras faciales, guantes y otra ropa protectora adecuada que, en algunos casos, puede reducir el riesgo de infección por COVID-19, lesiones permanentes o muerte. Reconozco que Patapsco Heritage Greenway, Inc., requiere que los participantes cumplan con los últimos estándares de distanciamiento social; Sin embargo, no requieren que los participantes usen ropa, guantes, zapatos u otro equipo específico y es mi responsabilidad vestirme en consecuencia para la actividad.
Doy mi permiso para ser fotografiado como parte de este evento para su uso futuro en un sitio web o artículo de periódico u otros medios.
CONSENTIMIENTO DE LOS PADRES: (debe ser completado y firmado por el padre / tutor si el solicitante es menor de 18 años de edad). Por la presente doy mi consentimiento para que mi hijo / hija pueda participar en la actividad anterior, y por la presente ejecuto el Acuerdo, la Renuncia y la Liberación en su nombre. Declaro que dicho menor es físicamente capaz de participar en dicha actividad. Por la presente acepto indemnizar y mantener a las personas y entidades mencionadas anteriormente libres e indemnes de cualquier pérdida, responsabilidad, daño, costo o gasto en el que puedan incurrir como resultado de la muerte o cualquier lesión o daño a la propiedad que dicho menor pueda sufrir mientras participa en dicha actividad.
HE LEÍDO CUIDADOSAMENTE ESTE ACUERDO, RENUNCIA Y LIBERACIÓN Y ENTIENDO COMPLETAMENTE SU CONTENIDO. SOY CONSCIENTE DE QUE ESTA ES UNA LIBERACIÓN DE RESPONSABILIDAD Y UN CONTRATO ENTRE YO Y LAS PARTES ANTERIORES Y FIRMÉ EN EL REVERSO DE MI LIBRE ALBEDRÍO.