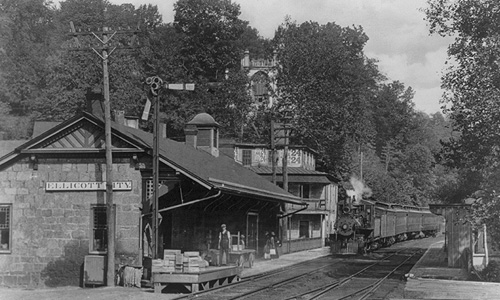 [vc_row][vc_column][vc_column_text]Ellicott City's B&O Station is one of the most popular historic sites in the Patapsco Valley. Built in 1831, the Ellicott City Station, the oldest surviving rail depot in America, still stands along active rail tracks that connect Baltimore to the West. Today, we'll focus on the site's role as the central transportation hub of the valley.
The site's history is one of "firsts" and directly tied to the rise of rail transportation in the valley. The railroad played a vital role in propelling the valley from a burgeoning mill town to an industrial center at the heart of American growth. Before rail transportation, the finished goods of the Valley's mills were brought to market either by water or on foot. While goods could be shipped down the Patapsco, the river above Elkridge proved too risky for most vessels. Land transportation was safer, but costly and slow. The introduction of the Baltimore & Ohio Railroad created a direct tie between settlements along the Patapsco and Baltimore. From there, goods could be shipped onto the global market.
While shipping was the initial focus of railway, passenger journeys became increasingly popular. Trains were seen as novel and luxurious and the journey from Baltimore into the countryside became a popular outing for wealthy Baltimoreans. The city's elite were impressed by the dynamic landscape, unique buildings, and industrious settlements that rested along the journey.
Over time, the railway became more than just a luxury. Within a decade, the line between Baltimore and Ellicott Mills became an important connector for businessmen and travelers. The B&ORR owned line quickly extended westward first towards Daniels, then to Granite, and eventually to Ohio. Ellicott Mills became the first stop on the B&O Main Line outside of Baltimore.
As a popular stop along such a bustling line, the Ellicott Mills Station was a hub of activity in its prime. Guests purchased tickets and boarded for distant destinations, while cargo, like milled wheat and textiles, started their journeys to market. It's no wonder that during the Civil War the site was of immense strategic importance to the Army of the Potomac.
Today, guests of the B&O Ellicott City Station Museum can enjoy an abundance of information on the Station's history, including learning that the site is recognized as a National Historic Landmark. Enthusiasts can learn about the many trains that passed along this line, while children can enjoy train gardens and interactive exhibits, and even board a red caboose. The station is a vibrant part of our shared heritage and the museum is a must-see for residents and guests of the Valley.
To learn more about the B&O Ellicott City Station Museum, click here:
https://www.howardcountymd.gov/Baltimore-Ohio-Station-at-El…
For more detailed information about the history of the Ellicott City Station, see MHT's Inventory Form here:
https://mht.maryland.gov/secure/medusa/PDF/Howard/HO-71.pdf[/vc_column_text][/vc_column][/vc_row]