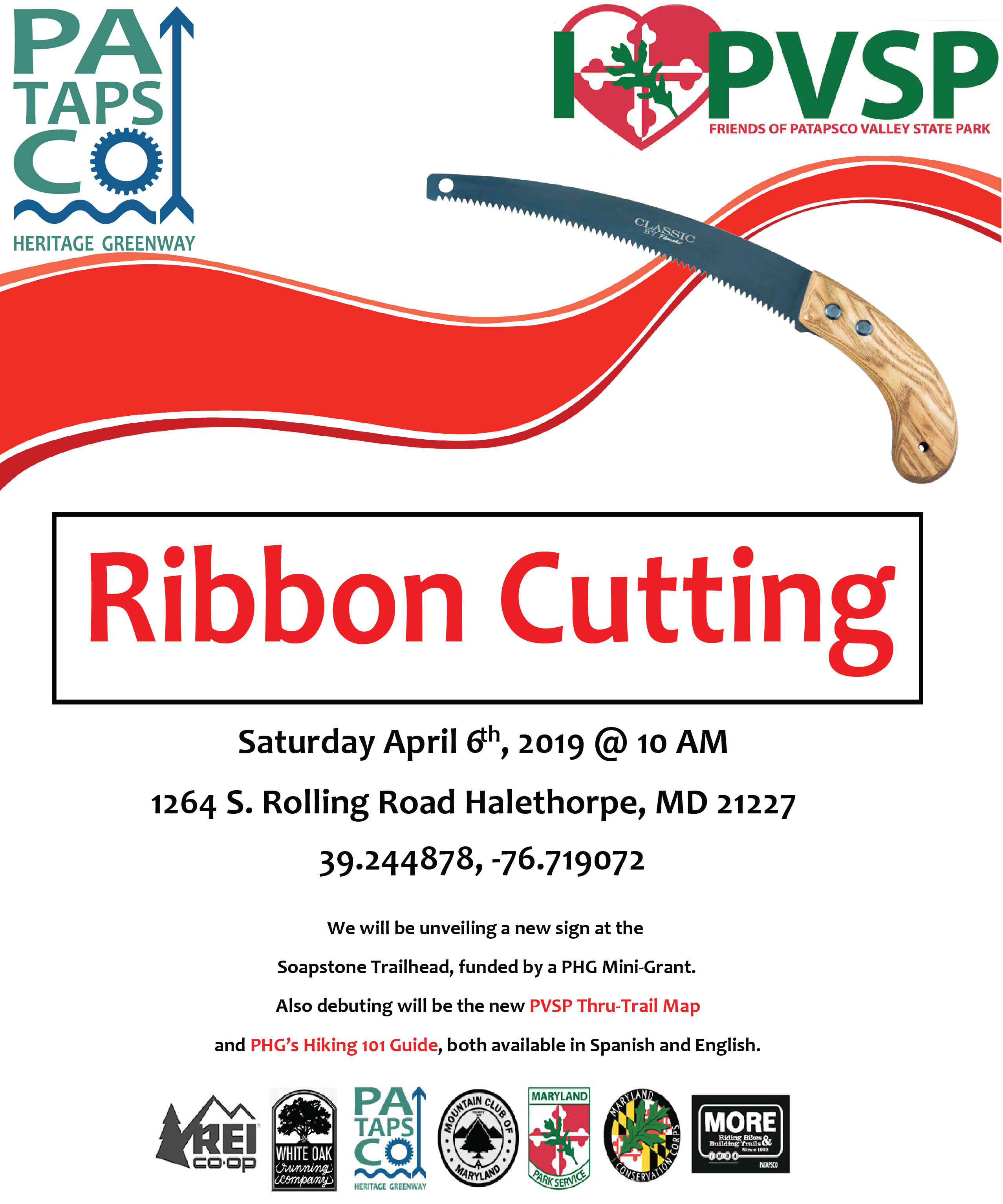 March 4, 2019
MEDIA RELEASE
CONTACT:       Lindsey Baker / director@patapsco.org /410.696.1328
Executive Director, Patapsco Heritage Greenway
April 6 Ribbon Cutting
Friends of Patapsco Valley State Park (FPVSP) and Patapsco Heritage Greenway (PHG) will host a Ribbon Cutting and Trail Guide Reveal at the Soapstone Trailhead on April 6, 2019 at 10:00AM.  This event is free and open to the public and will be held at 1264 S. Rolling Road Halethorpe, MD 21227.
Friends of Patapsco Valley State Park and Patapsco Heritage Greenway are working together to increase the recreation opportunities in the Patapsco Valley Heritage Area, expand access to new audiences, and do so in a sustainable manner that preserves the natural life within the area.
The Soapstone Trailhead is one of the busiest entry points into Patapsco Valley State Park (PVSP). The trailhead located on Rolling Road is a very popular entry point for the Avalon and Glen Artney areas of the park. The trail section was greatly improved in 2017 with multiple volunteer work days rerouting the trail and building new, sustainable multi use alignments. The trailhead is another step in Friends of Patapsco Valley State Park's work in developing connectivity of the trail system within PVSP. The funding from this kiosk came from a mini-grant from Patapsco Heritage Greenway, an REI Grant, and Friends of Patapsco Valley State Park.
The event will also include a reveal of a thru-trail map of Patapsco Valley State Park. Patapsco Heritage Greenway worked with Patapsco Valley State Park to create this thru-trail map of the PVSP. Patapsco Valley State Park extends along 32 miles of the Patapsco River, encompassing 16,043 acres and eight developed recreational areas. Through the efforts of PHG, PVSP, and FPVSP, a newly updated thru-trail map of the entire park will be available. The map includes trails and information on the various areas and is available in both English and Spanish. The map was made possible through funds from REI, Patapsco Heritage Greenway, and Friends of Patapsco Valley State Park.
In addition, PHG will be introducing a new Hiking 101 guide. The guide serves as an introduction to hiking in the region, with basic tips on safety, preparation, and accessing trails. The guide will be available in English and Spanish and was developed with funds from the Maryland Heritage Areas Authority.
Additional background
For more information about the Patapsco Heritage Greenway visit patapsco.org
For more information about the Friends of Patapsco Valley State Park visit https://fpvsp.org/