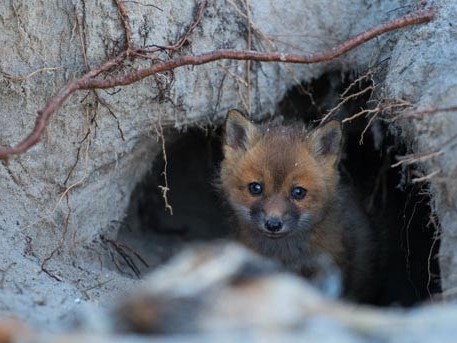 [vc_row][vc_column][vc_column_text]Hi Patapsco Pups and owners!  PHG is conducting a campaign in Elkridge to help reduce the amount of petwaste that reaches our waterways.  As a part of this program we will be blogging about some common misconceptions and myths surrounding petwaste and how to take care of it.  This time we will go over the difference between your dog's poop, and waste from wild animals and what that means for taking care of petwaste.[/vc_column_text][vc_single_image image="11226″ img_size="large" alignment="center"][/vc_column][/vc_row][vc_row][vc_column][vc_column_text]Something PHG often hears from dog owners, is that if wild animal waste is left to the elements why can't our dogs' waste?  The answer is that there are some key differences between our dogs' waste, and that of their wild counterparts.  These differences make the dog waste a serious concern for our water quality when left to break down and wash into the water ways.[/vc_column_text][vc_row_inner][vc_column_inner width="2/3″][vc_column_text]
Diet
The content of animal and dog waste is mostly determined by the animal's diet.  This may seem obvious, but it is actually the key to the difference between the two.  The basic function of the digestive system is processing food eaten by animals and eliminating waste.  This translates to waste generally only contains things eaten by the animal.  Wild animals have diets based entirely on their natural environment.  Wild animals such as white tailed deer and the red fox only eat things that naturally occur in their habitat.  This means their waste is also composed of things naturally occurring in their local environment.
Our pets have different diets, as we feed them processed foods in the form of various dog foods (and occasionally human food!).  These foods are specifically designed to benefit our pets' health, enriched with nutrients they need to thrive and be healthy.[/vc_column_text][/vc_column_inner][vc_column_inner width="1/3″][vc_single_image image="11233″ img_size="large"][/vc_column_inner][/vc_row_inner][vc_row_inner][vc_column_inner width="1/4″][vc_single_image image="11229″ img_size="large"][/vc_column_inner][vc_column_inner width="3/4″][vc_column_text]
Effects of Wild Animal Waste
The effects waste have on the local environment are directly controlled by the content of the waste.  This means that the different origins of petwaste and animal waste will have different effects.
Animal waste only reintroduces nutrients and material that was already present in the ecosystem.  Nothing new is added, it is simply preexisting material i.e. plant leaves, that has been partially broken down or dispersed.  The ecosystem functions normally with the addition of this waste, as the natural processes that occur have always functioned including this waste.  Some research has actually shown that animal waste performs functions beyond the obvious fertilizer for the natural environment.  A study done in Colorado's Rocky Mountain National Park showed that bear feces actually contained a large number of seeds from local plants, and when left to decompose, many plants grew from these seeds.  Through this the bear waste actually helped native plants disperse seeds and grow in new areas.  For more info on this study check it out on the Leave No Trace Website.[/vc_column_text][/vc_column_inner][/vc_row_inner][vc_row_inner][vc_column_inner width="2/3″][vc_column_text]
Effects of Petwaste
Unfortunately, because of its difference in origin, petwaste does not have all the fun, beneficial effects like that of its wild counterpart.  All the nutrients packed into dog food to keep our pups healthy and fed add up when introduced to the ecosystem around our homes.  Because they are not coming from our backyards and waterways, they are an external source of nutrients.  This contributes to dangerous nutrient pollution in our watershed.  (For a quick explanation on Nutrient Pollution check out this article from the EPA.
Another problem with petwaste is that our dogs have very different bacteria than local, wild animals.  This isn't neccassarily a problem for the dogs, but it means their waste contains high levels of bacteria that is harmful to others such as wild animals and people.  According to the EPA, one gram of dog waste can contain upwards of 23 million fecal bacteria, and is considered as toxic as an oil spill!  When left to the elements, all of this eventually makes its way to our waterways through erosion and rain, often contaminating everything it passes.[/vc_column_text][/vc_column_inner][vc_column_inner width="1/3″][vc_single_image image="11234″ img_size="large" css=".vc_custom_1575572260001{padding-top: 100px !important;}"][/vc_column_inner][/vc_row_inner][/vc_column][/vc_row][vc_row][vc_column][vc_column_text]We hope this has helped create a better understanding for why dog waste is different from typical wild animal waste and why it should be treated as such.  To learn more about how to properly dispose of it, check out our blog on where to put it.[/vc_column_text][/vc_column][/vc_row]