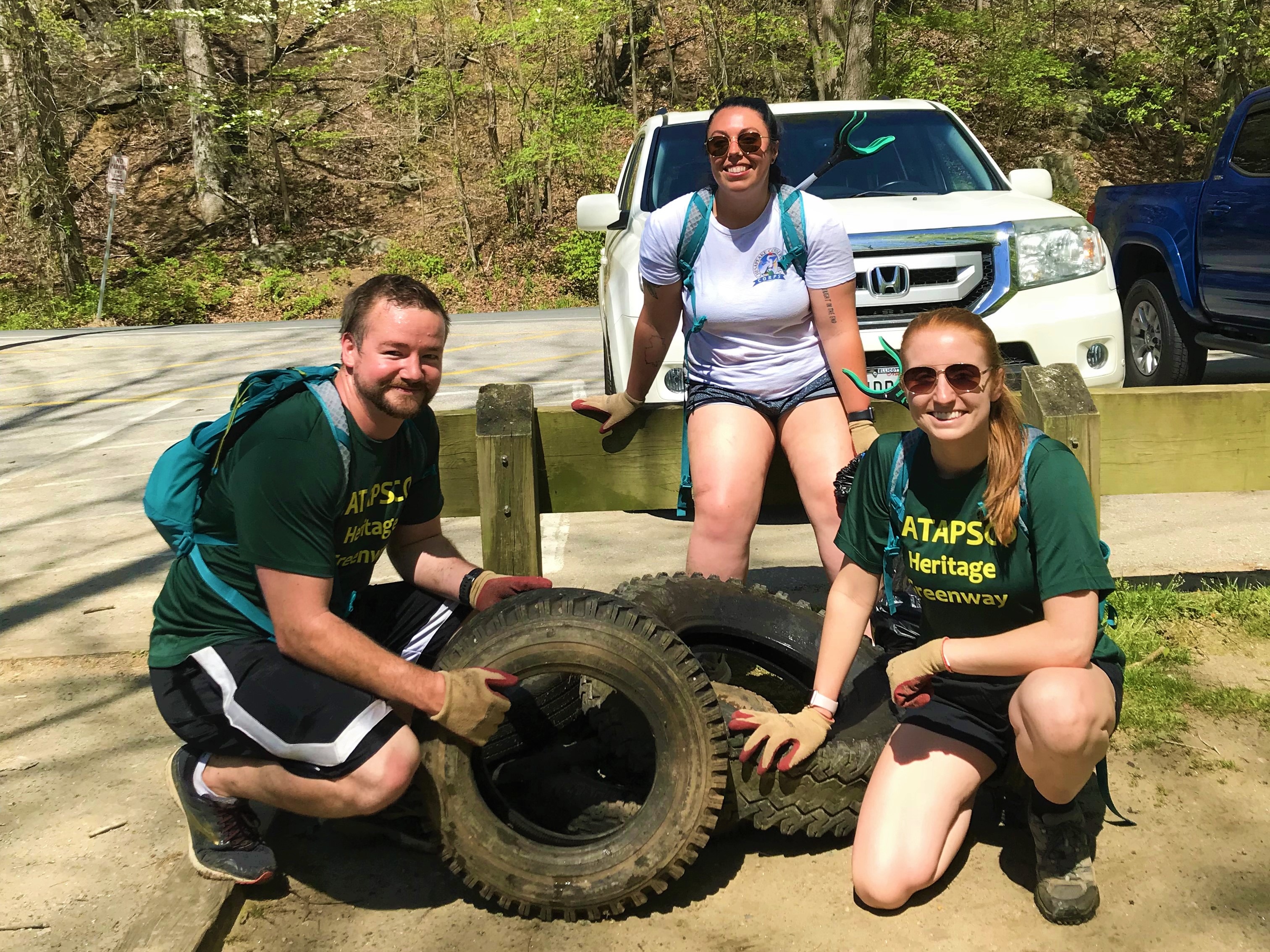 Plogging In Patapsco
Chances are you have never heard of "plogging" before, as it is a rather new trend in the world of outdoor recreation.  Plogging is any form of picking up trash/litter while traveling on foot.  The name plogging comes from merging the Swedish phrase "Plocka upp" with "jogging", but it can include any form of method of foot travel such as hiking, walking, or running.  The craze began with people who got tired of seeing litter and trash along their favorite jogging routes and began to collect it while on their runs.  As the practice spread it began to get recognition for its value as both a public service and an excellent new workout. What's more impressive than a 3 mile trail run? How about a 3 mile trail run you finish with a bag of trash you helped pull from the Patapsco watershed!
Plogging can be done however you prefer to participate.  Looking for an upper body workout with your run? Grab a tire and carry it back to the trail head with you!  Prefer a peaceful hike along a trail? Take your favorite trail at your own pace and target plastic wrappers and other litter!  Every piece of plastic or trash pulled out of the park is a win for the Patapsco, so join in however you like and help crowdsource the protection of our waterways.
What to do with your new found collection of trash:
 If you finished your plogging trip with a small/light bag of trash the simplest solution is to take it home with you and recycle/throw it out.  PVSP (and all state parks) have a "pack it in, pack it out" policy and even though you did not bring this trash into the park, there will not be any trash receptacles available within the park.
If option one is not available, some plogging trips can yield bigger items such as tires or scrap metal etc, there are alternate methods for trash removal.

County based mobile apps:  Both Howard and Baltimore county have free mobile apps available for alerting county services to issues such as a trash removal.

The Baltimore County version is called BaltCoGo and can be found for free in Google Play, and the Apple App Store.
The Howard County version is called TellHoCo and can be found for free in Google Play and the Apple App Store.
Both of these apps have the option to request trash removals confidentially if you prefer.
If the mobile apps are not an option, you may contact the county through these means of communication and request trash removal.

Howard County Highways: Call: 410-313-7450, Email: highways@howardcountymd.gov or use their website: TellHoco
Baltimore County Highways: Call: 410-887-3560, Email: highways@baltimorecountymd.gov or use their website: BaltCoGo a
With all methods for reporting trash removal to the county, it is important to provide ample information such as specific locations for trash, amount to be removed and photographs as possible.  Also mention that the trash was collected within the park or trail for removal.
Highlighted Trail: Old Main Line Trail
The Old Main Line Trail heading out from the Daniels Area of PVSP is an easy, flat trail that features beautiful views as it follows alongside the Patapsco.  After a quick stream crossing at the trailhead, the path is very flat and easy to traverse, mostly free of obstacles.  The trail is easily traversable for hiking or running, making it easy to focus on your plogging!  This specific trail is an out and back, although it has many connections to side trails including some that lead all the way to the Woodstock area for extended hiking.
Trail Photos: