Kit Valentine was a life-long resident and champion of the Patapsco Valley. He was an exemplary man who cherished his family, his faith, and his friends above everything. Kit died in September 2014 at the age of 73.
Kit's strong faith, dedication to Boy Scouting, and commitment to his community led him to participate in many activities focused on the Patapsco Valley. He was an active member in his church in Catonsville. As a young man he built a nature trail in the McKeldin section of the Patapsco Valley State Park for his Eagle Scout project. He was instrumental in the Rails-to-Trails improvements for the Catonsville/Oella/Ellicott City trolley lines and the Short Line to Catonsville. For many years, specifically the ten years he served as president of the Patapsco Heritage Greenway, he sought to protect the environmental, historical, and cultural resources of the Valley he so loved.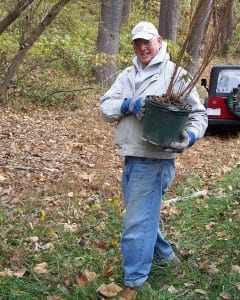 The Patapsco Heritage Greenway has established an internship to honor Kit's memory. Starting in 2015, PHG will be looking for applicants who embody the personal qualities of Kit Valentine and who have the interest in environmental sustainability, historical preservation, and public service that he demonstrated. Once selected, they will be assigned projects to help preserve and enhance the Patapsco Valley.
If you would like to contribute to this internship, you can do so at this link.  To make an online donation in memory of Kit, please indicate that purpose in the "memo" field. Or you may send your contribution to:  The Patapsco Heritage Greenway, Inc., P.O. Box 96, Ellicott City, MD 21041
Kit's family and the Patapsco Heritage Greenway would welcome your help to keep Kit's memory alive and to continue the work in the Valley he loved.