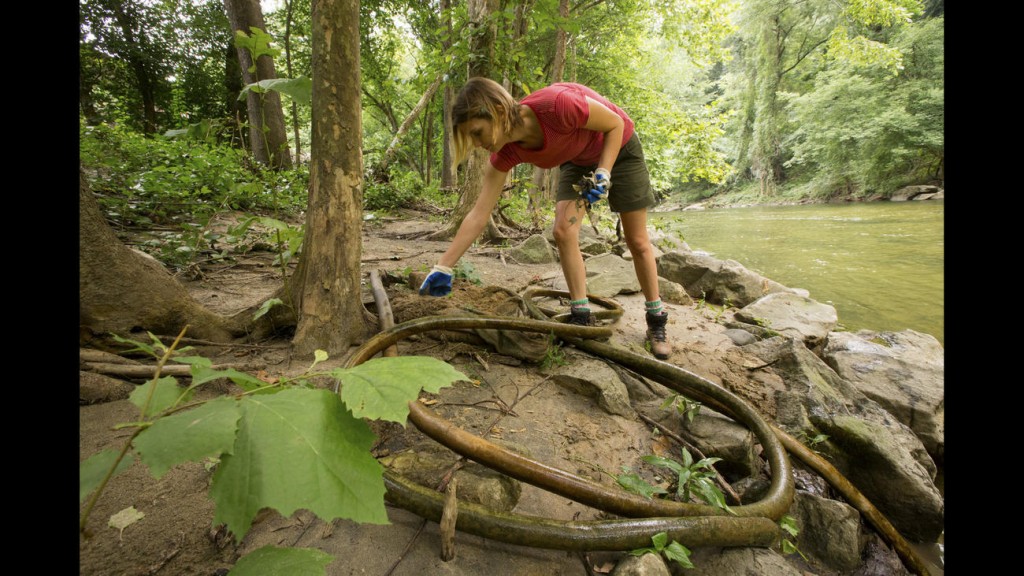 Original Author: Heather Norris Arbutus Times/Catonsville Times
For some southwest Baltimore County residents, the Patapsco River and the various streams that feed into it are more than just a nice backdrop or a flooding concern.
Those moving waters are an important part of the region, a part that needs to be tended to, and cared for, on a regular basis.
For those people, the Patapsco Heritage Greenway's stream watchers program is a perfect fit, they say.
Since 2005, PHG has relied on more than 104 stream watchers, many from the Catonsville, Arbutus and Halethorpe areas, to help keep an eye on the waterways of southwestern Baltimore County, said Betsy McMillion, PHG's director of environmental and restoration programs.
The stream watcher program aims to utilize the local volunteers to regularly monitor area streams. After undergoing the free training from the nonprofit, McMillion said, volunteers pick a small section of a waterway, usually close to their home or work, or a place the volunteer visits often, and are responsible for walking around that area as often as they can to monitor for any potential.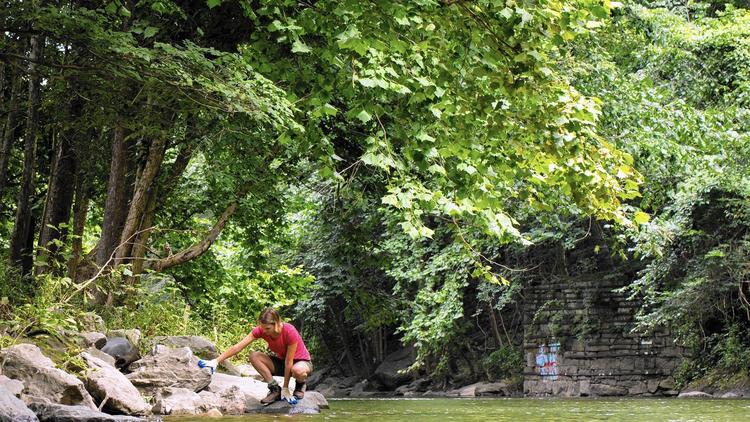 The volunteers, who range in age from students to retirees pick up trash, inspect the stream banks for erosion and do a sensory check of the water for any unusual sights or smells that could hint at possible pollution or contamination, she said.
When a volunteer reports a problem, such as an excess of trash in one area, PHG organizes a clean-up that brings in more volunteers to help address the problem, she said.
For bigger problems, like illegal dumping, volunteers relay the problem to McMillion, who then contacts the state or county department that handles the area in question.
"We're pretty much a volunteer-based organization," McMillion said. "[Our volunteers] are doing a world of good."
At least eight stream watchers monitor Herbert Run, which flows south from the Baltimore National Cemetery and Spring Grove State Hospital to the Patapsco River in Relay, according to McMillion's roster.
Four volunteers keep an eye on Cooper Branch, which travels alongside Trolley Line #9, she said.
She has on record one couple who has taken the lead in watching over Cedar Branch in the Woodbridge Valley area.
One woman monitors the section of Bull Run adjacent to the All Saints Sisters of the Poor property in Catonsville, she said. Miller Run, which follows the Baltimore National Pike, is cared for by at least two men, according to her volunteer record.
Sections of the Santee Branch, which runs through part of the Community College of Baltimore County, are looked after by at least two people.
Nine other volunteers have taken responsibility for parts of the Soapstone Branch, in the Patapsco Valley State Park, the Sawmill Branch, which runs south from near the Baltimore National Pike to the Hilton Area of the park, Thistle Run, which follows Thistle Road, and the Vineyard Springs, which runs into the Avalon Area of the park, according to her records.
Other volunteers watch the Patapsco River itself, McMillion said.
Many of the volunteers her group has come to rely on had been doing their own stream watching well before getting involved with PHG. With the creation and growth of the larger stream watchers program network, these individual community members have been given a system of support, she said.
Until October, former Catonsville residents Richard and Carolyn Schurmann, were among those doing their own stream monitoring. Four years ago, when they moved into their house in Arbutus near Herbert Run, they decided to make it a point try to keep the section of the stream that flowed behind their neighborhood clean.
On a regular basis, they said, the retirees would walk over to the stream to check for any problems or anything unusual. So when they heard about an organized volunteer effort to care for the waterway being offered by PHG last fall, they were immediately interested.
"We've been picking up trash for nearly as long as we've been here," Richard Schurmann said. "When I heard about this program with the Patapsco Heritage Greenway, it was like 'I can do that and not even change my habits that much.'"
After undergoing training, they immediately became some of PHG's most active volunteers, McMillion said.
For the Schurmanns, volunteering fit right into their normal schedule. The couple walks their miniature poodle, Chester, around the neighborhood almost every day, they said, and now, they just direct their walks toward the stream so they can check on it.
The pair said they spend most of their time removing trash from their designated area, which extends south from the University of Maryland, Baltimore County campus to Elm Road.
Shopping carts and baskets are among the most common finds, said Carolyn Schurmann, but sometimes they find things that are even more disconcerting than discarded trash. A couple weeks ago, Richard Schurmann came across a log that had gotten lodged against the Interstate-95 overpass. In talking to neighbors, he learned that the fallen tree had stopped enough debris traveling downstream that it had begun to form a dam of sorts, causing the water levels to raise significantly higher than usually during rain storms.
He made a call to McMillion, who then made a calls to Baltimore County's services.
"They came and straightened it up within a week," Richard Schumann said.
The concentrated effort to check on the stream on almost a daily basis has made them more familiar with the waterway and made recognizing problems all the more easy, both said.
Earlier in the year, Richard said he was walking along the water when he noticed a gray current flowing in the water. He followed it for a distance and was eventually able to trace it to a broken water main near the site of some recent construction. Unchecked, the fluid, along with particles from inside the water main, was flowing freely into the water. Again, he said, he informed PHG and had the problem fixed.
For Kaitlin Coolahan, the decision to become a stream watcher was easy.
A former Baltimore County Department of Environmental Protection and Sustainability employee, she said she left her job a couple months ago to do some traveling. Now back from her international trip, and in the absence of a an environmental job, she has been throwing herself even more enthusiastically into volunteering for the PHG.
With the river right behind her house, on the border between Ellicott City and Catonsville, she said she couldn't help but want to get involved.
"When I was a kid, I organized stuff like this on my own," said Coolahan, who said that her family used to spend days picking up trash along the side of the roads in Halethorpe, where she grew up, on a regular basis when she was younger.
She describes the stream watchers program as "a network of people who are willing to be the eyes and the ears of the Patapsco Heritage Greenway."
In addition to a chance to work on protecting her local environment, Coolahan said she has also enjoyed attending PHG's cleanups around the area and getting to know other people with a passion for environmental conservation and work.
Her boyfriend also participates in the stream watching program, she said.
A PHG volunteer since the spring of 2013, she said the job involves mostly collecting trash from the banks of her section of the stream.
"It's kind of just keeping an eye out and doing what you can," she said.
Beer bottles and paper bags are her most common finds along her section of water along River Road, between Catonsville and Ellicott City, she said. But after a heavy rain, she said, a person can expect to see all kinds of things.
"I've seen what people have taken out of the river," she said. Without stream watchers and PHG, she said, "all that stuff would just be sitting there, or be flushed down the river into the harbor."
For her, she added, taking care of the local waterways is a great way to get back into working in the environmental field, but it's also personal.
"I want to know when the sewage leaks," she said, "because that's in my backyard."
For information about the stream watchers program or how to get involved, go to patapscoheritagegreenway.org
Original Article: http://www.baltimoresun.com/news/maryland/baltimore-county/catonsville/ph-ca-at-stream-watchers-0715-20150713-story.html#page=1