Join us this March for our fourth annual Patapsco Days. Visit Patapsco Days 2022 for more information and to register for events.
Get an early start on Patapsco Days with these February events:
February 19, 2022, 3:00 PM
Pioneering Along the Patapsco: Innovation Flows Through Ellicott City , EC250's YouTube channel
Patapsco Heritage Greenway is delighted to announce the premiere of PIONEERING ALONG THE PATAPSCO: INNOVATION FLOWS THROUGH ELLICOTT CITY as part of EC250 virtual events on Saturday, February 19 at 3pm. The program will open with a special virtual visit to Howard County Historical Society's new Ellicott Legacy exhibit as well as a sneak peek at the new Children's Museum set to open on April 22. The program will conclude with a screening of Pioneering Along the Patapsco, produced in partnership with Maryland Public Television. The production highlights innovations over the years that have transformed both Ellicott City and the Patapsco River Valley. Visit EC250's YouTube channel at 3 PM on February 19 to enjoy the full program.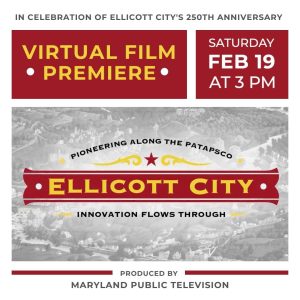 Join PHG at the Howard County Conservancy's Mt. Pleasant Farmstead for a discussion on the history of the Patapsco Watershed and what is being done to preserve it. Afterward, enjoy a naturalist-guided hike around Mt Pleasant.