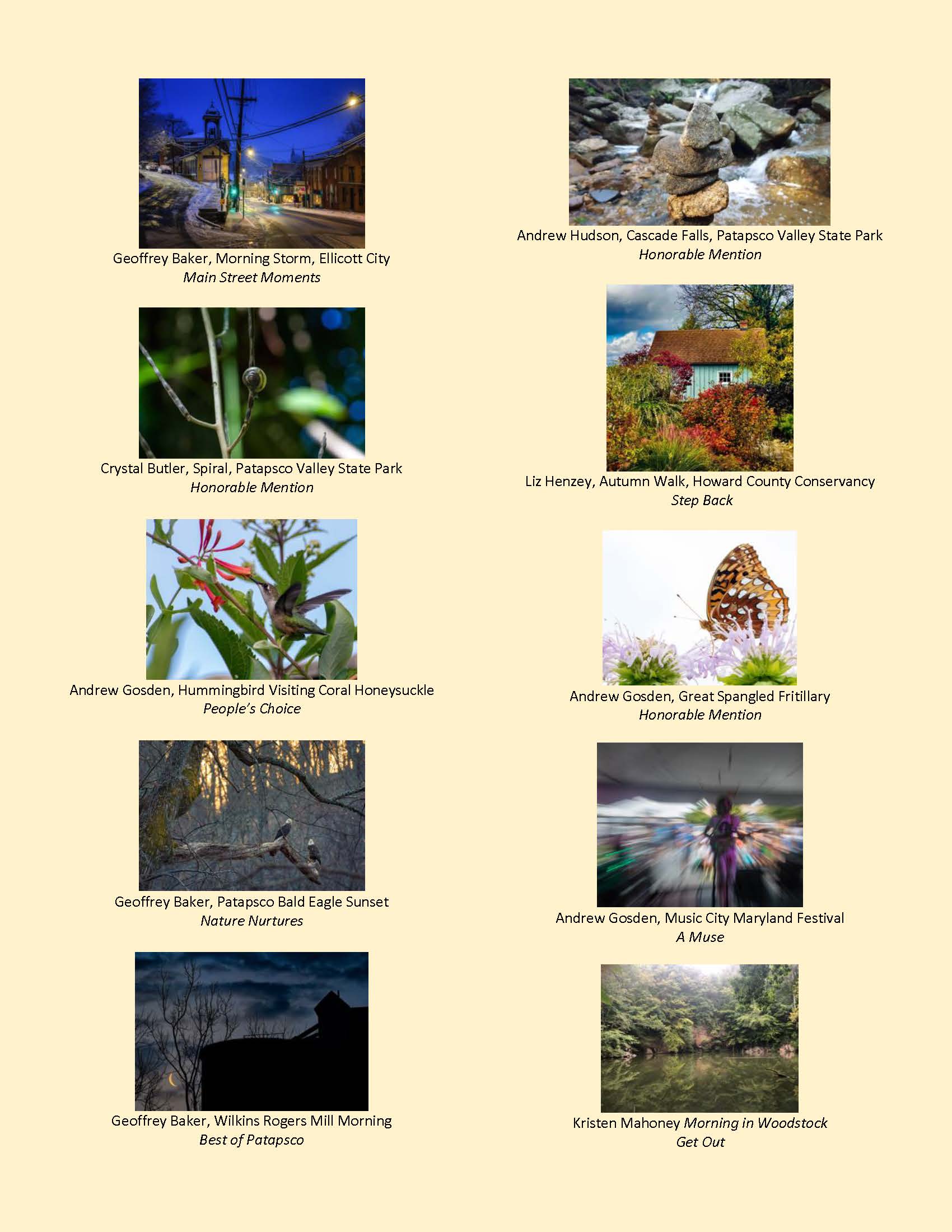 ELLICOTT CITY, MD– Patapsco Heritage Greenway (PHG) is pleased to announce the winners of the 2021 PaSNAPsco Photo Contest.  Now in its fourth year, the contest awarded $800 in total prize money, including individual $100 prizes in six categories as well as a $200 Best of Patapsco Prize.
Geoffrey Baker of Oella took top honors with his striking composition Wilkins Rogers Mill Morning, wining the Best of Patapsco overall. Baker also won the Nature Nurtures and Main Street Moments Awards with his images Morning Storm, Ellicott City and Patapsco Bald Eagle Sunset, respectively. Kristen Mahoney's Morning in Woodstock was judged best in the Get Out category and Andrew Gosden's photo of a performance at the Music City Maryland Festival won the A Muse award. Photographer Liz Henzey won the Step Back award for Autumn Walk taken at Howard County Conservancy. In addition to the judges' selections, an online vote determined Andrew Gosden's Hummingbird Visiting Coral Honeysuckle as this year's People's Choice winner. A $100 prize was awarded for the top selection in each category and the winning photos along with three honorable mention entries will be featured in PHG's 2022 paSNAPsco Calendar. Photographers whose entries received honorable mention are Crystal Butler, Andrew Hudson and Andrew Gosden.
In announcing the awards, PHG Executive Director Aaron Shapiro commented, "PHG is pleased to support the visual arts and share the beauty and diversity of the Patapsco Valley Heritage Area by featuring the work of these talented photographers. We live, work and play in Maryland's most dramatic river valley and this year's submissions reinforced the richness of our natural, cultural, historical and environmental resources."
Judges for this year's contest were VCU Arts graduate and photographer Riley Goodman and PHG Board Members Vicki Goodman, Pam Johnson and Michelle Wright.
Awards for the paSNAPsco contest are sponsored by The Rogers Family of Ellicott City and the project is made possible through support from the Maryland Heritage Areas Authority.