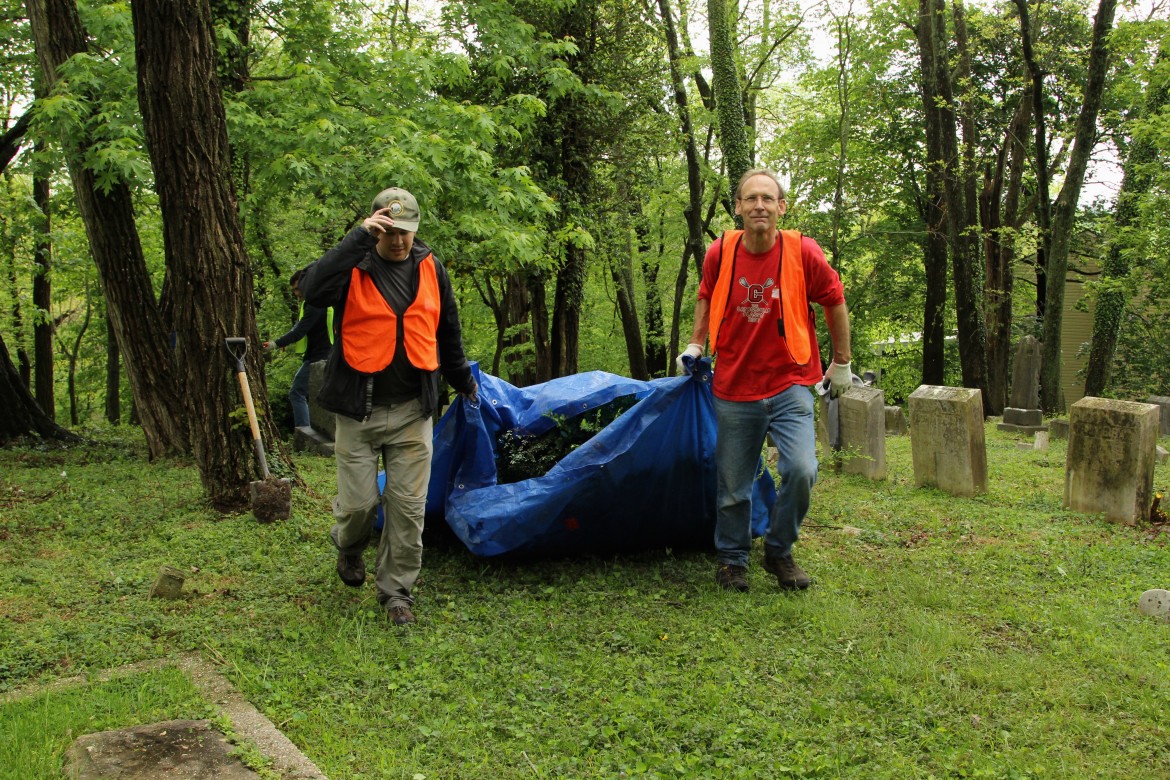 More than 99 years have passed since railroad worker Silas B. Sisk died after suffering a fractured skull on the job and was buried in Oella Cemetery, a 1.8-acre expanse set aside for poor laborers whose families had nowhere else to turn.
But the exact location of Sisk's grave is unknown.
Now, armed with a mobile app and sheer determination, lifelong Howard County resident Mary Catherine Cochran has renewed hope of finally locating the gravestone of her late husband's ancestor after a decades-long hiatus from searching for it.
Cochran, executive director of Patapsco Heritage Greenway — a nonprofit that aims to protect and preserve the heritage of the Patapsco Valley — joined a couple dozen volunteers Tuesday in a project to map and transcribe the 380 known headstones at the unkempt, centuries-old final resting place in Baltimore County on the other side of the Patapsco River from historic Ellicott City.
Their tools: garden implements, to pry away the invasive Japanese Stiltgrass, briars and poison ivy masking the gravestones, and spray bottles filled with water to help discern the lettering etched into the granite markers — along with a smartphone with global positioning system and camera, and access to billiongraves.com.
The recording project, in tandem with planned cemetery cleanups at regular intervals, including one set for Nov. 19, is still in its infant stages and will be conducted in phases.
One of its major aims is to connect a younger, technology-savvy generation with tangible remnants of history to spark their interest in preserving the past.
The site on Rest Avenue is something of a rarity as cemeteries go: It is not connected to a church, as many cemeteries are, but was started instead by the Union Manufacturing Co. soon after founding a mill in 1808.
Sisk, who was 56 when he died and had been employed by the mill as a weaver, was buried there in February 1917, despite having left the company's employ to become a railroad worker in Baltimore, records show.
"Many of these mill workers were incredibly poor, sometimes living hand-to-mouth, and they were grateful to have ground to be put into," Cochran said.
"The problem with working in the mills was that workers developed lung diseases, not unlike coal miners," she said. "It was a nitty-gritty and hard life."
The free app — which Cochran and others hope will provide a needed boost to the project and accelerate its completion — allows users to upload enhanced photos and enter gravestones' information about the deceased to create a trove of family history data that is accessible around the world.
The event was part of the third annual series of talks and events called Patapsco Valley History Days. The Nov. 19 cleanup of the cemetery will be held in collaboration with the Oella Historical Society, to which Patapsco Heritage Greenway has awarded two grants of $2,500 for two cemetery cleanups, one of which was held in May. The Oella Community Association will also take part.
Though the gravestone of the great-grandfather of Cochran's late husband, Jay Koontz, was not discovered under the clear skies Tuesday, 76 other markers were mapped and transcribed into the billiongraves.com database.
Ann Anderson was one of those who found success last week. She and her husband, Bill, drove from their home in Chestertown in hopes of finding the gravestones of a few relatives of a close friend who now lives in Ohio, and she's pleased that the search was fruitful.
In fact, when historical society president Julia Graham yanked aside some weeds from a gravestone to demonstrate to the Andersons how to use the app, she revealed one of the markers the Andersons were hoping to find.
"This was a thrill from the beginning and it was remarkable to find something right out of the gate," Anderson said of the experience. "It feels like a sacred place, and there's a real concern that we could lose it" if it continues to deteriorate.
Graham agrees.
"What makes this situation unique is that the company paid to have these graves opened but never arranged for any perpetual care," Graham said of the cemetery, where burials continued until 1950, when what was then known as the Dickey Mill closed.
The property is still owned by the Dickey family, she said, but has fallen into disrepair, to the point where there are trees sprouting from some grave sites, Graham said.
Cochran, whose father is former Howard County Executive Ed Cochran and sister is former Howard County Council member Courtney Watson, said she began researching her husband's family tree shortly after they married in 1983.
"I was interested in genealogy and starting looking into finding Silas's gravestone in the late '80s and early '90s when my kids were in school and I had a little free time here and there," Cochran said.
Even then, she had trouble finding the cemetery.
"I drove up and down the road before I realized the gravestones were nearly invisible under vines, thorns and poison ivy," Cochran recalled of her first trip to the site.
Somewhat frustrated by the odds of succeeding in her quest and busy with three kids who were born between 1985 and 1993, she decided to put genealogy aside for a while.
After Cochran accepted the directorship in 2015, Patapsco Heritage Greenway received a request from the historical society for grant money to clean up the cemetery.
"I had this weird flashback moment, and the desire to do more family research clicked in again," Cochran said.
Joan Ridgley, Koontz's cousin and a former county resident who lives in Frederick, said she is interested to learn firsthand from Cochran about her progress in finding Sisk's gravestone.
"I'm not a high-tech person," said Ridgely with a laugh. "I'm amazed by technology and what it can do."
For her part, Cochran intends to continue her search, inspired by the possibilities that hard work and technology might unlock when combined.
"It's a weird kind of serendipity that brought me back to this project," she said, "and I'm going to keep looking for Silas's grave."
For more information on the Nov. 19 cleanup of Oella Cemetery from 10 a.m. to 1 p.m., go to patapscoheritagegreenway.org/events.