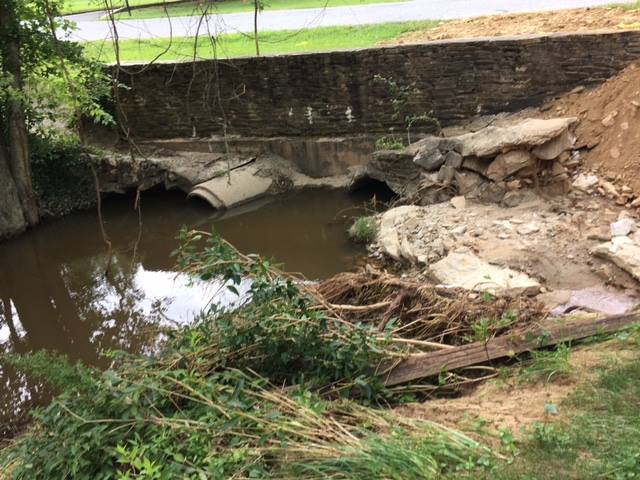 A devastating flood surged through Ellicott City's historic district a month and a half ago, destroying homes and businesses, flushing cars into the Patapsco River, toppling many trees and wiping away herbaceous plants along its course. It is hard to assign a value to what was lost. Not only are some people without their possessions, but they are without their livelihoods. Vegetation lost to the flood will no longer support the sediment banks with their roots, causing more to erosion and more sediment downstream. The Bloede Dam deconstruction was delayed, which in turn impedes the river's health, as aquatic lifeforms cannot travel upstream to proliferate. Because of the severity of the flood, restoration efforts are as crucial as ever in ensuring the sustainability of the river, as well as sharing knowledge about what caused the cataclysm and what efforts there are to mitigate stormwater's impact. In search of answers, I interviewed Lori Lilly, a person who works closely with our local environment to reduce the severity of stormwater impacts to our ecosystems.
Who is Lori Lilly? (Tell me about yourself!)
I am an ecologist, community advocate and small business owner. I have a passion for environmental restoration, working on behalf of my local community and figuring out new ways to solve challenging problems. I am the Project Manager for Howard County's Restoring the Environment and Developing Youth program (READY), leading the development and formation of new non-profit called Howard EcoWorks, and have a number of other projects across the Chesapeake Bay that focus on pollution remediation. I live at the Howard County Conservancy where my husband is the caretaker and where we happily raise our two children, Julia, 17, and Elena, 11.
Why do you care about water quality and stormwater management?
I have been an environmental advocate for as long as I can remember. When I was kid, I spent my summers looking for salamanders in my neighborhood stream. When I was in college, I learned that that same stream was polluted with PCBs, contaminated illegally by a nearby transportation authority. Each person in our neighborhood received a $200 check for our "troubles." My ideals are very strong and I put them into practice everyday in the hopes that I might leave this world for my children a little bit better place than it was when given to me and my generation.
What is stormwater and why should we care about its management?
Stormwater is water that comes during precipitation and from ice and snow melts. Many of our watershed problems do not originate from stormwater itself but from land use change and particularly the loss of forest cover and increase in impervious surfaces over the years. Impervious surfaces have dramatically changed the hydrologic balance resulting in much more surface water flow and less infiltration and evapotranspiration. Increased surface runoff volumes have severely degraded our streams through erosion and other processes. In addition, stormwater runoff collects all of the pollutants from the impervious surfaces – nutrients, sediment, gas and oil and from our vehicles, etc – and carries them to our local streams, rivers and the Chesapeake Bay where they disrupt natural processes and kill aquatic organisms.
How is stormwater different in a forest or wetland versus a town or city?
Stormwater in a forest has an opportunity to infiltrate into the ground and recharge the groundwater. Surface flow is less in a forest. Forested conditions result in more evapotranspiration, which is water that is transferred from the land to atmosphere by transpiration from plants. Stormwater in a city or town does not have an opportunity to infiltrate into the soil because of so much impervious surface. This results in more surface flow and less evapotranspiration.
How does stormwater pollute and what kinds of pollutants are present?
Stormwater in urban environments have high surface water volumes that erode and degrade local streams. Peak volumes of stormwater runoff are higher in cities than in natural environments – this is often referred to as "flashiness." Flashy storm events can cause a lot of damage in a short amount of time, as was evident during the 7/30/16 Ellicott City flood event. Stormwater carries many types of pollutants – nitrogen, phosphorus, sediment, hydrocarbons, fertilizers, pesticides and raw sewage to name a few.
How can we better manage stormwater runoff and pollution?
We can manage stormwater runoff and pollution by working to retain stormwater "on-site." This means that we do everything we can do to infiltrate rainwater where it falls. A homeowner can do this by installing a rain garden, rain barrel, disconnecting a downspout and converting turf grass to native conservation landscapes. Bigger commercial sites must do bigger projects to manage stormwater. Managing stormwater is required for new development projects. Older development projects must go back and "retrofit" their properties in order to better manage stormwater, which can be costly.
What regulations are currently in place for stormwater management in Howard County?
Howard County stormwater is regulated by a Municipal Separate Storm Sewer System (MS4) permit through the Maryland Department of Environment. The permit identifies six minimum pollution control measures that regulate things such as public education and outreach about stormwater, illicit discharge detection and elimination, construction site runoff, new development runoff and pollution prevention. Howard County must also do its part to meet the requirements of both local Total Maximum Daily Loads (TMDLs) and the Chesapeake Bay TMDL (aka the "pollution diet" for the Bay).
What is the current stormwater infrastructure in Ellicott City?
Most of the development in Ellicott City's watershed was built prior to when our current stormwater standards were put into place. There are many neighborhoods and commercial properties in the watershed that have no stormwater management controls at all. The historic town itself is located in the floodplain and, in many locations, the buildings themselves have been sited directly across the stream channel.
What led to the cataclysmic flood in the historic district?
The National Weather Services provides a good report on the event here: http://www.weather.gov/lwx/EllicottCityFlood2016. Basically the town received 6" of water in less than two hours, which led to flash flooding. Water jumped the streambanks and came down the street, flooding buildings from the front. Closer to the Patapsco, flooding from the Patapsco met floodwaters from the Tiber Hudson watershed causing extreme damage to buildings downtown. The old historic infrastructure was not able to withstand the floodwaters and the town was decimated.
What are the plans for the future of stormwater infrastructure in Ellicott City?
This is a good question and not one that I feel qualified to answer as I am not a decision-maker. I do serve on the Ellicott City Flood Workgroup and we are working on compiling our own recommendations to the County over the next couple of months.
What sort of techniques are used to educate neighborhoods about stormwater mitigation?
Patapsco Heritage Greenway has done some great storm stenciling in the Ellicott City watershed neighborhoods.  The Howard County Watershed Stewards Academy is available to help with residential homeowner assessments.  The County offers incentives to homeowners to install best management practices on their properties.  Residents in the Ellicott City watershed could use even more direct education, outreach and engagement for their downstream neighbors – I'm currently working on a couple of grants that will help to do just that!
Regarding the grants from the Heritage Area and from Howard County, what are they for and how will they help?
We have a grant from the Maryland Heritage Areas Authority to assess feasibility and develop concept level designs for a stream restoration and floodplain reconnection project between Papillon Drive and the Historic Colored School. The goals of the project will be to reduce erosion and provide floodwater storage.