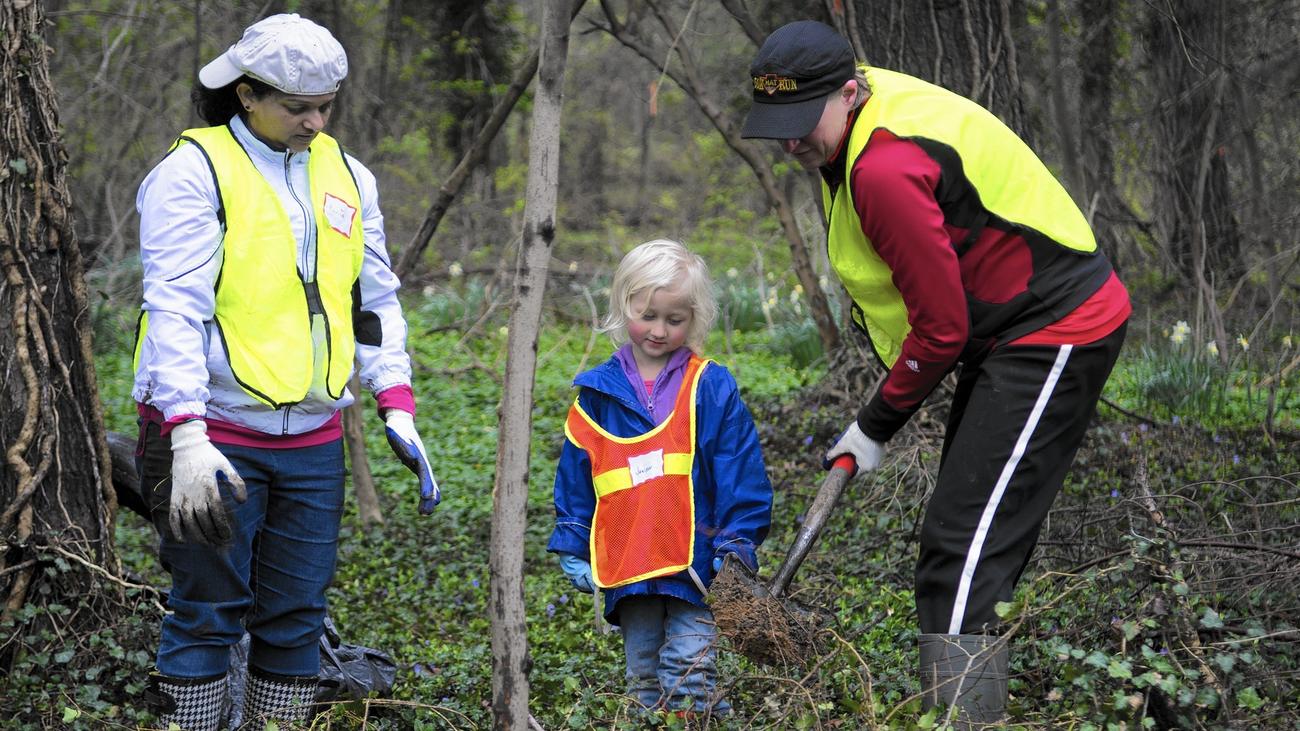 As Steve Wachs pulled at a brown bottle embedded in the bed of Herbert Run in Catonsville, he pulled dirt and roots along with it.
He put it in a bag and kept cleaning.
"Makes you wonder what the vintage of this stuff is," the Elkridge resident said. "Is it 50 years old? Is it 20 years old?"
The next item he grabbed made him strain; it appeared to be the grille of an old vehicle. After a few seconds of pulling, he freed it from the bank. He also pulled out a leaf spring and a gas tank.
A few yards down from him, Margot Leckron, a student from Oakland Mills High School in Howard County, was struggling to dig up a large item that appeared to be a piece of a radiator.
After a couple of minutes spent fighting with the object, buried under ivy and dark soil a few feet from the stream, she moved on. There was plenty of trash to pick up, and the item wasn't going anywhere.
"There's usually a bunch of interesting items you find," she said.
Wachs, Leckron and 38 other volunteers came out to clean up the stream in the Ingleside neighborhood of Catonsville on April 2. The event, hosted by Patapsco Heritage Greenway, was a part of a larger regionwide "Project Clean Stream" effort, under the multi-state Alliance for the Chesapeake Bay.
Herbert Run flows to the Patapsco River and then into the Chesapeake Bay.
According to Betsy McMillion, Patapsco Heritage Greenway environmental program director, the volunteers collected 1,693 pounds of trash from the stream April 2. That wasn't everything — they plan on returning to the site for an additional cleanup April 23.
Much of the trash was carried to the site by stormwater runoff, McMillion said. Someone throws a cup out a car window onto a highway, and the rain eventually sweeps it down to the stream.
In the past, people have disposed of trash at the site, McMillion said. Streams are often dump sites because they're secluded.
One goal of the cleanup is to improve the look of the area, which will encourage people not to dump trash there. If someone sees trash is already there, the person won't feel as bad adding to it, compared to dumping trash in a clean stream, she said.
The Herbert Run stream in that area was in bad shape, McMillion said.
During the cleanup, which ran from 10 a.m. to 1 p.m., volunteers found old cellphones, toys, an old mailbox and the frame of old playground equipment.
The group also collected some medical items, such as hypodermic needles and an oxygen tank.
"And a horseshoe, for good luck," McMillion said.