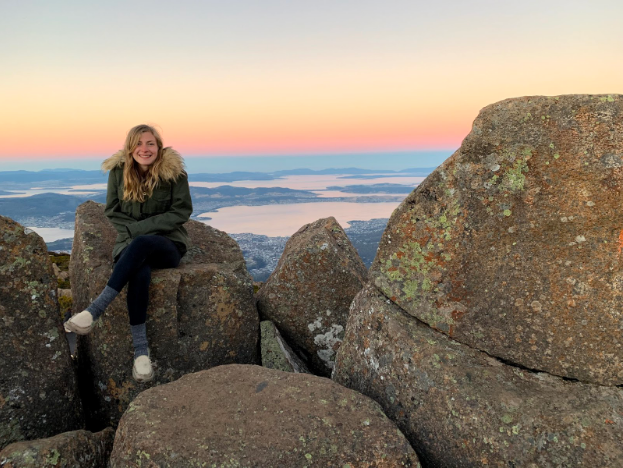 Patapsco Heritage Greenway welcomes Abri Segal, a Chesapeake Conservation Corps Intern, who will be with us for the next year! Abri will be helping us with our various environmental programs while also developing and leading her own projects. Continue reading for an introduction from Abri herself: 
"I was born and raised in Ellicott City, living in the same home in Historic Ellicott City my whole life. Growing up in this town has given me so much to love about the surrounding nature, the hidden streams and trails, and the friendly community. Historic Ellicott City has provided jobs for me all throughout my high school and college years. From starting at a small toy store (which no longer exists) at 16 to working at River House Pizza, I am excited to be able to start my career in my hometown with Patapsco Heritage Greenway. 
During my free time, I love being outdoors, whether I am going on a hike or spending time at the beach. I also love going on walks with my new dog, Milo, and watching Netflix with him. I graduated in 2020 from St. Mary's College of Maryland with a Bachelor of Science in Environmental Studies and Psychology and a minor in Spanish. I love to travel and took advantage of many study abroad opportunities at St. Mary's. I was able to visit Senegal, Nicaragua, Greece, and Australia throughout my four years. I believe that traveling has given me a great appreciation for the environment by seeing the diverse landscapes and cultural practices of different countries. While not entirely sure (as I'm fresh out of college), I am most interested in environmental restoration and conservation efforts, such as stream cleanups and limiting plastic use. During my time with Patapsco Heritage Greenway, I hope to learn more about environmental protection and engage community members in these efforts. I am looking forward to growing my skill set and having a great start to my career with this organization!"
We're looking forward to a wonderful year with Abri and hope many of you get the chance to meet her at an in-person or virtual event!